A camera beat chart and additional analysis for the Summit Forest mission.
See the whole series of articles on the
Camera
page. "Read More" for details.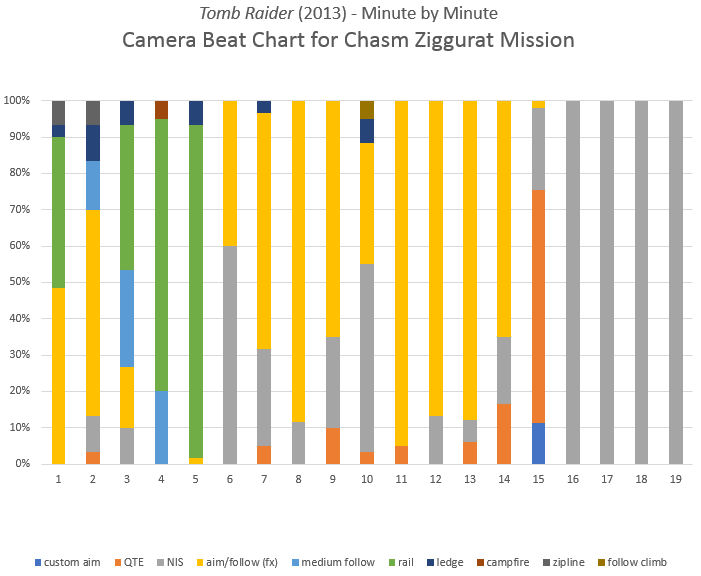 Each minute of the Chasm Ziggurat mission, broken down into the camera types found within it (see analysis below for details)
A satisfying ending to a phenomenal game - and the crystallization point for what the Crystal Dynamics team saw as the definitive Tomb Raider experience. The whole game is about the birth of an icon, so it appropriately feels like everything has been leading up to this moment when "A Survivor Is Born."

Lara Croft dual weilds pistols for the first time while fighting the final boss in a quick but satisfying conclusion to the action. This is presented as a custom gameplay sequence where the player controls the reticle with the right stick and can shoot with both triggers.

Then 4 minutes of cinematics wrap up the loose ends in the character arcs and overall story. This is not a lot of time, given the total cinematic length and the amount of cinematics in the introductory missions. The ending may be intentionally light on expensive cinematic content, as common standards from 2001 indicate that less than 20% of players for any game actually finish, according to John Lee, interviewed by Blake Snow (CNN 2011); and that number has moved closer to 10% in the last decade.

Tomb Raider's second to last boss is an large undead Samurai whom Lara must battle at close range, and that is the climax in gameplay intensity as far as combat goes. Notably, the developers succeed at bringing all aspects of the game into the last mission, including puzzles, climbing, and ranged combat. The level of challenge is not necessary the hardest in the game, but the completing each test is rewarding and let's the players show their mastery of the games' major systems.

Add the fan service of seeing Lara's iconic silhouette with two pistols after the cult leader falls to his death, and it's enough to give you chills of excitement for the future of this franchise.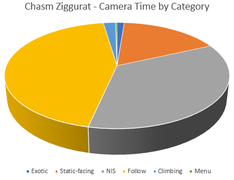 Exotic cameras refer to the zipline and balance cameras as well as custom or rarely used cameras
Static-facing cameras are better versions of the industry standard static cameras. Includes camera pulls and shots with movement/rotation on one axis
NIS include transitions and any unresponsive shots
Follow cameras are driven by mouse or stick input
Climbing cameras support the climbing features