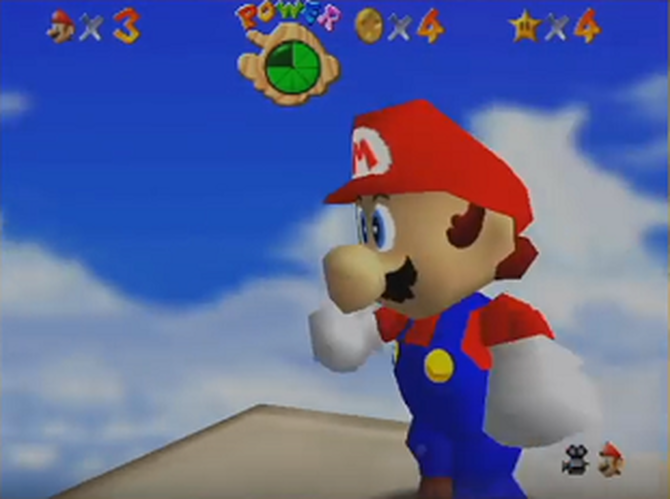 This is the reference for the Super Maria 64 camera - starting with the close up Mario Mode as described in "Game Feel" by Steve Swink
One 1998 Nintendo title made a permanent mark on cameras long before the third person action genre really took off - and it is not
The Legend of Zelda: Ocarina of Time
. While games like
GTA III
(2001) and
Demon's Souls
(2009) both have similar targeting systems to
Ocarina of Time
, these features were also present in
GTA III
's precursor
Body Harvest
(1998) so neither camera can claim as much influence.
I am talking, of course, about Super Mario 64, whose success allowed other influential third person games like Resident Evil 4 (2005) and Gears of War (2006) to create their own revolutions.

Remember that the N64 controller only had one control stick! The follow camera was a vast improvement from its contemporaries, which were often limited to static cameras as seen in
Resident Evil
(1996) and rail cameras like in
Star Fox
(1993).
The revolutionary feature in this game is a camera that slowly rotates behind the player to adjust to their movements - notably causing avatars to run in circles when running towards the camera. If you have ever seen this in a game, chances are that camera is a "follow camera" that was inspired by
Super Mario 64
.
There are two camera modes in
Super Mario 64
: Mario Mode and Lakitu Mode. My project,
Super Maria 64
, will focus on implementation of Mario Mode. See reference of a player
completing the game in Mario Mode here
. Lakitu Mode is preferred by many players and aged better with time, but it is basically another layer of features on top of the features in Mario Mode... so we will avoid that complexity.
Goal: Go from a blank UE4 level to a prototype quality camera

This post documents the first step towards the goal of the Super Maria 64 project, and provides readers with a quick mock-up of the camera lag seen in our reference. I will show video of the final result taken with Sequencer, as well as the blueprints.